As I sit in the office and work on proposals, the racecar, life and figuring out 2016 and our future, life still goes on. Erica Enders won her 2nd championship which is an amazing accomplishment. Back to back Championships. One hell of a driver. Antron Brown wins the Top Fuel Championship for 2015, give it up for Antron. He rode a Motorcycle in NHRA and now drives for Top Fuel and is amazing. He is a funny guy too. I saw his act in person with telling John Force he could have been his father in law. It was priceless.
Not to be Debbie downer but Dina and I lost some friends in the last couple of months. George Barris was an amazing man, he built so many cars for the movies. For me to meet and hang out with such an icon was amazing. A close friend of ours passed away, Joan she was 82. She was such a spitfire, always on the go and full of life. She was one in a million.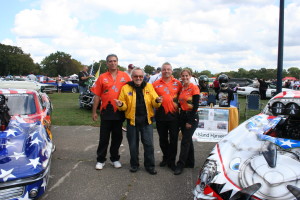 So, I got to thinking about all the people I have met in my life and what they have accomplished. Then I looked at my own life. The questions would not stop in my head, yes I do have some sort of a Brian ….oh, I mean Brain. But seriously, what legacy am I going to leave behind. I have no kids that I know of. My Ex-wife wouldn't run me over and my current wife only wants to go to Aruba. Okay, I will have to explain this one then get back to thought. We were at a race and people were talking about vacations, I said "you have to go to Aruba you will love it. Right Dina? You love Aruba!" She shook her head side to side…(No). I then said "ya remember when we went there? It was awesome." Well the fourth shake she said, "No dumba** …wrong Wife," Well, she knows how to kill a party, right?
Anyway, many of the people I have met have left a legacy. Scotty Canon, George Barris, Butch Patrick( Eddie Munster) Sonny Shroyer, Sonny Leonard and so many others. What I am leaving behind besides dirty underwear and bills? How about you? Ya, you the one reading this. Dina was in the Ice Capades, IHRA Champ and other 'crap' (LOL) and here is me. I don't know about you but I don't want to be remembered as the Pro Mod Driver with a bad background AKA Bam Bam. Do I want to be some movie star or music professional? No. I have to admit people singing your song during the World Series is cool. I suck at acting and my voice will only get me in gangster flicks anyway. I guess I have to find my legacy and make my mark. The same goes to all of us. Anyone can become a Trump, you just have to find out what your great at and do it better than anyone else.
I did not come from a racing background. No big name or big dollar family behind me (or Dina). We have fought very hard to have what we have and we will continue to fight for it. It amazes me that (in life, especially in sports) people find it ok to label. People do not know you (even some who do), are willing to assume what they come up with in their heads is correct. Worse than that, they will pass along false information without a thought.
For those not aware, we have been running Pro Mod for over 10 years. Amazingly, we still are treated as if it is our rookie year. Many times unfortunately from the media outlets (that are well aware of our history). Ask yourself these questions: would John Force be as big if he didn't win one championship? Would Pro Mod be anything in NHRA without Roger Burgess? The answer is of course…no. For some it is out of sight out of mind. You may be reading this saying to yourself, who is Roger Burgess? Roger put a lot money and effort into the sport of Pro Mod (in NHRA). In my opinion, he was dumped on. He made a difference and revived Pro Mod. My point of all of this is I am so tired of the same people in the same magazines and media sites and the 'Hero to Zero' theory. Every magazine wants to be the next big thing, yet they are too afraid to think out of the box. Especially in Drag Racing.
Unfortunately, drag racing has lost something along the way. It has become stagnant. I watch these top end interviews in our sport and I want to jump through the TV and smack some of these people! Where did the personality go? We need the old loud and crazy John Force back. Bring back Scelzi for Scelzi says. Many have lost touch with being funny, having a personality and showing emotions.I will admit; Dina is all personality in an interview. She's a ham and knows how to 'sell it'. I have to say, if I lost as Greg Anderson did, I would not have been so blahhhh, about it. Really, that is not him. Not the Greg we all know. Come on, where is the urge to scream aloud? Bring some the attitudes back. For example, one of the biggest and 'baddest' moves of the year was Jimmy Prock going to DSR. It was 'mentioned' as a 5-minute conversation between JFR and DSR. What? No hype? That was the perfect opportunity to engage fans in and outside the sport. We need Steve Austin vs the Rock attitude to bring back the hype. Talk crap again. It has been said that the corporate 'shirts' won't like it. What B.S. Did anyone listen to Ron Capps in his interview at Vegas? He was the only one with a personality when explaining about having his corporate 'shirts' at the racetrack. Where is the excitement in the pits? On the starting line? In the staging lanes? I do not personally know Stevie Fast, but he is a funny bastard. In his article, he said he would be as loud as he is in PM even if he went to a TF or FC class. As racers, we need to have rivalries. We have to call them out. Think about it. Think about the rivalries from the past. Pat Mussi had Tony Christian, Garlits and Muldowney, Ford vs Chevy I can go on. Even Dina and I have had a great rivalry! There's none today. Yes, it is amazing to watch our sport and the speeds we run. We lost the human factor of the sport and I have to blame on the drivers. This season, at an IHRA race Quain Stott and Jimmy Rector were in the staging lanes 'trash talking'. It was awesome to hear this and see it again and the fans loved it.
The sport has changed in the last couple of years from actually driving the cars to essentially being a monkey in the seat. Be advised, this is going to piss a lot of people off, but TOO BAD!!!! In many cases, driving a racecar has become merely point and shoot. (I am speaking of PM here). It has become a matter of no shifting, leaving off a button, traction control, self-deploying chutes, automatic power and fuel shut-off. Now, don't get me wrong, I believe in safety 100% but it seems that soon it will be a remote control racing. I encourage promoters to put on a race where the rules are: no auto shifters, leaving off a clutch pedal only (regardless if it is a converter car). Hey, If Erica Enders cuts .000 to Vincent Nobile's .015 (they leave off a clutch pedal) why do so many need to leave off a damn button in a PM? Oh, many will tell you because PM is faster class. That too is B.S. Unfortunately; drivers have become robots and a bit lazy. Many seem afraid of the actual 'competitive nature' the sport is known for. Just for example, Dina leaves off a clutch pedal (the Cadillac is converter driven) and she shifts. Just as Tommy D'Aprile shift his PX car and he runs 3.50's in the eighth. As I said earlier, Pro Stock drivers do still drive their cars. We need to take the 'robot' out of the car and get back to driving. Bring back the excitement! Put a fire under your asses.
The sport of drag racing needs a facelift. Bring back the excitement. Sponsors are going to other sports because (as I said) drag racing has become stagnant. Look at soccer games. The fans scream and are a part of the game. How about 40,000 baseball fans singing in unison to a Billy Joel song? Fans want to be involved. Oil downs can be long and boring. Do we really think that free t-shirts are the answer to keeping fans excited and involved? Utilize that time to engage the fans. Do something different. Think out of the box. We have all the technology in the world. From mobile devices to apps to find the closest restroom but yet we have no idea how entertain fans.
Since winning the IHRA Pro Mod World Championship, things have been busy. We are already working on our combo and getting some new things worked out for Stella. At this point, it is still undetermined as to what series DPR will run. IHRA race schedule is very tough (as far as travel) this year. With our personal goals in mind, I am not sure if we are going to be able to commit to that or not. PDRA has some of the fastest cars and great competition in our class. Stella can be very competitive there. NHRA RPM has had a great year with high car counts and outstanding teams. We hope to know more after the PRI show (in December).
Well, the boss has me on the run again. Stay tuned for an exciting 2016! Thank you all for the continued support.
See you at the races!
Andrew 'Bam Bam' Parise