Woofin' at ya my good peeps! It has been wayyyy tooo long since I 'pawed' my last blog! Mom and Dad have been hogging the computer. Well, mostly Mom!
I am woofingly happy to say that our Dina Parise Racing team has been on the road and attending the IHRA Nitro Jam series! Did you know that the Pro mod class in IHRA is sponsored by Crower Cams & Equipment ? Sure are! And since I AM the DPR PR Pug I am good at giving a plug, well that is as long as there is a treat involved!
Mom and Dad have been taking me to some really cool places! We went to Virginia Motorsports Park (VMP) and I got to see all my friends! Well, I make friends wherever I go! I even learned how to stage my Jr. Dragster Stroller!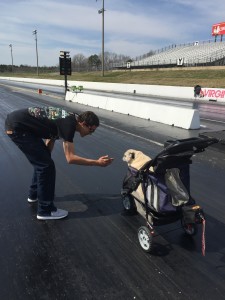 We have been to South Georgia Motorsports Park (SGMP) , Bradenton Motorsports Park and Palm Beach International Raceway (PBIR)! I made friends in all those places!
Being the PR Pug I have an important job! Mom and Dad think THEY run the show…. Woof! Nope! It's all me!
So, let me catch you up! Did you know that SGMP is now an IHRA track? Wooofff! That means I will get to go back next season!
It was super hot in Bradenton. Don't these people know I am all furry? Whew! I did get to watch the team work on Mom's Cadillac. Her name is Stella. Almost like my name! I was in the pit in my Jr. Dragster stroller and I saw lots of people there! Some wanted autographs, and some were helping the DPR team to work on Stella! Not sure what was happening, but they were very dirty when all was said and done! I would be in trouble if I got that dirty! I know 'cause once I played in a mud puddle! It was fun! Then Mom gave me a bath. I love taking a bath!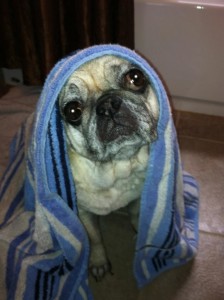 Next we went to PBIR. I saw a real live Alligator! I didn't get close because I think he would have eaten me as a snack on a Ritz Cracker! I met a new fur friend too. His name is Boss! He told me that his Dad (Cale Aronson) had a crash in his car. I'm woofin' and praying that he feels better soon! I know that Boss will cheer him and Tinzy (Boss' Mom) up! That's what us fur kids do! Now, I do not know how to mail stuff, but I bet you do! You can send Cale 'Get Well' cards to make him feel better! Keep reading for that address!
Mom did woofin' good at PBIR! I could hear the fans cheering as I chewed my bone! And my new human friend Les (Mahew) made a cool video of Mom too! But, he forgot to ask me to appear in it. I thought I was the star!?!
From PBIR we came back to Pennsylvania. That's where we live now! Mom takes me to work with her at Andi-Con Performance. I like it because Becky the Fed Ex lady gives me cookies! Then I take a nap….. Don't you just love naps and cookies? I would help Mom and Dad work, but being this cute is tiring!
They tell me that soon we will go to Cordova International Raceway (CIR) with IHRA Nitro Jam! May 29th and 30th! I'm super excited to go there because I have never been! That means MORE new friends!
Have you ever been to a Drag Race? It's cool because us fur kids can come along! I worry though when I see the fans bring their fur kids. I am lucky, I have a nice cool house on wheels to stay in. But their fur kids look very hot! I bet they would rather be home in the cool air! I know I would! And why do peeps leave us fur babies in the car when it's hot out? Don't they know we can't work the cool air? I watch the news with Mom and she said some of my furry peeps died from being left in a hot car! If I ever see that, I will bite their ankles until they let their fur kid out of the car! Whew! I feel better that I woofed that out!
So, I hope I will be back soon to let you all in on the DPR stuff! I'm tired now. Time for another nap!
Don't forget about my friend Boss' Dad! Here is the address for you to send stuff! Let's all cheer him up and wish him a woofin' speedy recovery! I heard he love Minion's (whatever they are) !
Send stuff to: Jackson Rehabilitation Hospital
                        2nd Floor Room 252 Cale Aronson
                            1611 NW 12th Avenue
                              Miami, FL 33136
Did you know you can also donate? YES! Help 'Bridge the Gap' for the Aronson family! Visit : http://godspeedministry.com/ws/?p=1287 For information!
I will see you all at top end!
Want to hear and see more of me? Don't forget I'm on twitter! https://twitter.com/promodbella 
Woof and out!
Bella Booda Parise