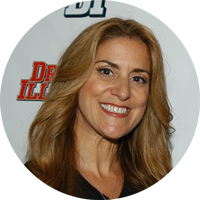 Dina 'Show Girl' Parise is the President of Dina Parise Racing, as well as a Driver . DPR is  one of the most dynamic  Pro Modified Drag Racing teams on the circuit today.
She would like to say she is your average gal, but she certainly is not. Then again, how do you really gauge average?
Growing up on Long Island, she was a competitive gymnast all through school but her real passion was figure skating. Her ultimate dream was to skate professionally for the 'Ice Capades'. She took that passion and made her dream come true! She skated, touring with the 'Ice Capades' for four years.
She later returned home to New York, married her husband Andrew, and they have a Pug named Bella. Andrew and Dina have always been that couple 'on the go'. Andrew; a Competitive Drag Racer and Dina; just competitive. Think it's a recipe for destruction? You make the call!
Did you ever see something and just know you had to try it? Even if maybe you did not succeed, but you just had to try? Well, that's just what Dina thought when she began Drag Racing. When your very first time down the ¼ mile (at Frank Hawley's Drag Racing School) is 9 seconds at 146 MPH you know you mean business!
During the week, Dina is a 'Claire Kent' of sorts. She was hairdresser for many years even while racing. She enjoyed making her clients feel better about themselves. Nothing is better than a new haircut or color to brighten someone's day! It was a client that made the 'Claire Kent' reference! 
But in stark contrast, on the weekends, she is 'Supergirl'(of sorts) . As a Pro Modified Drag Racer/Owner she is the antithesis of her 'Claire Kent' ego! Powering down the ¼ mile track in under 6 seconds at 240 MPH is not only unparalleled and exhilarating, it is empowering! Racing is not just a man's game as many may think. The most engaging part about it is the fact that in racing, men and women compete equally and are not segregated by sex!
The thing that most people do not realize is that Drag Racing and skating in Ice shows are quite parallel. No, really! Touring with an Ice show consists of traveling week to week from venue to venue. The ice surface changes, but the performer still has her 'skates' and 'sequin costume's. The fans wait (by the backstage door) for autographs and the children have positive role models to look up to. In Racing, the game is the same. Racers race at a different track each week. The track surface changes, but the Racer has her 'Tires' and 'Fire suits'! When coming back from a run, fans wait to have autographs signed, and met the drivers. You see, it's all relative! Dina is known to say "I have traded my sequins for a fire suit and my skates for tires!"
"Follow your dreams. If you feel the need to try it, then try it! Life is not a dress rehearsal," Stated Parise "As I always say… In life you get one ticket, and I'm using mine until it expires!"