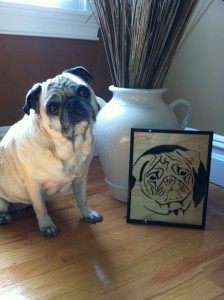 So it has been a while since I have blogged. I have not smelled much burning rubber lately and I am missing my fans right now! Being famous really is a tough gig.
I have been kickin' back at the Parise Casa. I have plenty of bones to chew and Mom and Dad read me my 'fan mail' often. HHMMM… Sometimes I think I get more 'fan mail than they do, but don't tell them that!
This past weekend, I got to go to Grandma and Grandpa's for a sleepover! I had a great time. But Grandma makes me sleep with a Jeff Gordon blanket. I love her and all, but doesn't she know Mommy and Daddy don't make left turns? I've tried to tell her, but she does not understand Pugeese.
So, I went to Grandma's because Mommy and Daddy were at  zMax Dragway  for the NHRA,  4 Wide Nationals! I am a bit upset about that because I didn't get to go and see my peeps! They seem to think it's all about them…..Sheesh!
Continue Reading →