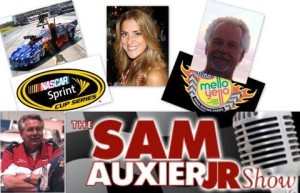 Did you miss the Monday September 30th Sam Auxier Jr. Show? Well have no fear… iTunes is here! Check out our great line-up!
NHRA Agave Underground Pro Mod Driver Danny Rowe,  Nitro Funny Car Funny Car/McLeod Clutches Driver Paul Lee
Me, Dina Parise as Co-Host  along with Rick Markko .
Listen to the show here: https://itunes.apple.com/us/podcast/the-sam-auxier-jr-show/id550917610 (Click on 10/7/2013)
Be sure to tune in LIVE every Monday night at 7PM est at: http://www.thesamauxierjrshow.com/