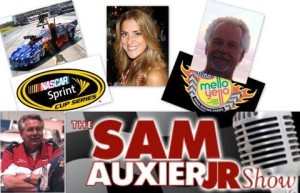 *I was not available and unfortunately did not co-host this show. *
Did you miss the Monday November 4th Sam Auxier Jr. Show? Well have no fear… iTunes is here! Check out our great line-up!
Our guests : NHRA Kalitta Racing VP & Crew Chief  Jim Oberhofer ,  NHRA World Champ/ Ford Motor Co's  Bruce Sizemore and Historian George Nye!
Listen to the show here: https://itunes.apple.com/us/podcast/the-sam-auxier-jr-show/id550917610 Click on 11/4/13
Be sure to tune in LIVE every Monday night at 7PM est at: http://www.thesamauxierjrshow.com/